08/10/2015
A Potent Fusion of Elements: Chicago and Earth, Wind & Fire Connect Decades of Dots in Downtown Nashville
A Potent Fusion of Elements: Chicago and Earth, Wind & Fire Connect Decades of Dots in Downtown Nashville
by Steve Morley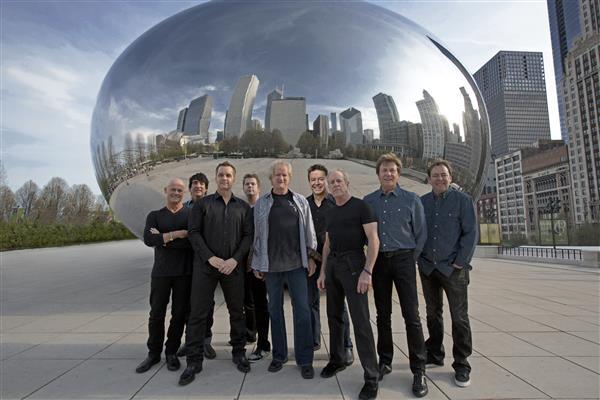 Chicago, photo by David M.Earnisse
Saturday night, Aug. 1, in downtown Nashville, past and present collided in a cluster of state-of-the-art technology and late 20th-century music, itself a collision of pop, R&B, rock, funk and jazz. That expansive range isn't one that most artists can produce single-handedly, though the evening's co-headliners, Chicago and Earth, Wind & Fire—each band distinguished by the uncommonly innovative and diverse blend of influences contained in their decades-deep bodies of work—collectively incorporated all those styles and more on the stage of Nashville's brand-new, impressively designed and comfy-chair-outfitted Ascend Amphitheater. Their 2015 Heart and Soul Tour, the fourth pairing thus far for the two multiplatinum acts, features memorable and impeccably performed music enhanced by vivid high-tech visuals interspersed with familiar vintage album-cover images on three large projection screens. Not surprisingly, the audio quality was also extremely high . . . as was the volume.
In terms of broad audience appeal, the Chicago/EW&F tandem is a no-brainer; both bands can boast record sales in excess of 100 million, and both, having grown their fan bases with younger listeners while supplanting their own ranks with new blood (each group currently retains three founding members), have entered their fifth decade of recording and touring. Both were formed in Chicago in the late 1960s, a tumultuous time that found many young musicians heavily invested in the potential for social change. Chicago's first several albums included tracks with politically charged and idealistically inclined lyrics; even a pop offering as seemingly innocuous as 1972's No. 3-charting "Saturday in the Park," upon closer inspection, presents an almost utopian picture of trouble-free community. Following closely behind, Earth, Wind & Fire promoted peaceful revolution through songs of cross-racial acceptance and unity on their lesser-known early releases, paving the way for the positivity and empowerment in hits such as "Shining Star," the sole EW&F single to top both the R&B and pop charts.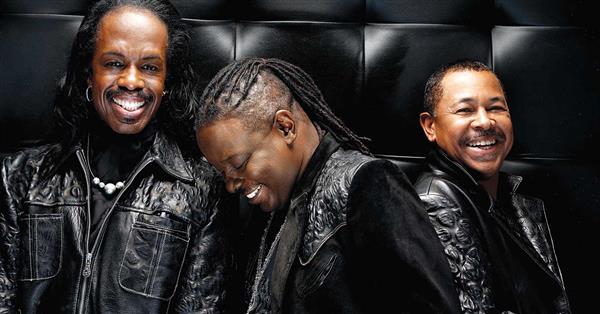 Verdine White, Philip Bailey and Ralph Johnson of Earth, Wind & Fire
Of the two, Earth, Wind & Fire have been the more consistent in maintaining their inspirational philosophy—an undercurrent present in much of the 12-piece ensemble's tightly sequenced and choreographed one-hour set, highlighted by the band's famed horn-section work, virtuoso instrumental turns and flawlessly executed, silken multi-part vocals (easiest to fully appreciate on more relaxed offerings such as "Fantasy" and "After the Love Is Gone"). Pulsating visual accompaniment punctuated the set, which drew heavily from their best-known hits but included worthy, low-charting singles ("Mighty Mighty," "Jupiter") and a key track from their breakthrough 1975 That's the Way of the World album, "Yearnin' Learnin." Original member and bassist Verdine White's vitality equaled that of a man far younger than his 64 years; in addition to his buoyant, kinetic stage presence was a fierce, funky, Bootsy Collins-esque bass solo in "Serpentine Fire," a yoga-inspired number pointing to the health-conscious lifestyles long espoused by the band's founders—no doubt a big factor in White's surprising physical energy and flexibility onstage.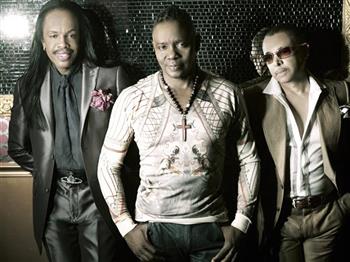 Photo by Randee St. Nicholas
Also present in Earth, Wind & Fire's ethos is spiritual awareness, particularly evident in "Devotion," which steered their set from dance-centric tempos to a more introspective and chilled-out section of the show. You need devotion, bless the children, deliverance from the fruits of evil, intoned a vocal ensemble led by Philip Bailey, wielding the silvery voice heard on more than 40 years' worth of EW&F recordings. Bailey provided the set's most captivating moments, beginning with an almost unearthly high note near the end of "Devotion," a hint of things still to come. Singing about spirituality is one thing; embodying it, as Bailey did onstage, is quite another. In the free-form, wordless vocal solo that followed the sobering "Reasons," the singer demonstrated an astonishingly powerful soprano-like range while maintaining a strikingly subdued demeanor. As an ovation rose from the crowd, Bailey remained still and meditative, head slightly bowed, gratefully receiving the mounting appreciation but not egging it on in the slightest. Indeed, this was devotion in action, the testimony of a man who understands the true source of his gift and uses it skillfully with an apparent humility that spoke volumes.
Chicago's brassy opening salvo catered to first-generation fans with the adventurous, churning statement of purpose "Introduction" and the majestic "Questions 67 & 68" from their 1969 debut album, demonstrating a toughness that belied the band's 48 years of existence and middle-period balladeer image. Much of the set's material made a point of emphasizing Chicago's signature horn section in both solo and ensemble form, with founding trumpeter Lee Loughnane and trombonist James Pankow still on board, the latter a notably charismatic and spry performer who'll turn 68 later this month. The choice of these and other classic-era selections asserted the significance of Chicago's brass, a defining element of their sound that had taken a back seat during the band's early 1980s run of adult-contemporary hits. Before accommodating fans of those romantic pop numbers, Chicago presented its more ambitious side with the nearly 13-minute, 7-part "Ballet for a Girl in Buchannon" (from Chicago II), an eclectic song suite incorporating the 1970 Top 40 hit "Make Me Smile" and the slow-dance perennial "Colour My World."
Keyboardist Lou Pardini, a newer member, admirably handled vocal duties on "Make Me Smile" (originally sung by the late Terry Kath), bringing to this and later numbers a semi-smooth, blue-eyed-soul flavor in the vein of Michael McDonald. Pardini's supple baritone adds welcome vocal muscle to the band, which since its inception has lost not only the inestimable Kath but also weathered the departure of tenor singer/bassist Peter Cetera, the trademark voice and pen behind several notable Chicago hits. His replacement, Jason Scheff, is now the longer-tenured member in the bass and co-lead vocal slot, one he accepted as a 23-year-old rookie in 1985. His elastic tenor and vocal resemblance to Cetera gave him an edge over more experienced contenders, though he was always more than just a ringer for a singer. Scheff, whose father, Jerry, was Elvis Presley's favored stage bassist, also provides a solid and seemingly effortless low-end pulse for Chicago; his bass prowess shone in particular on the evening's more progressive and rock-rooted material, culled from the earliest Chicago albums. On selections including "Just You and Me" and "Hard to Say I'm Sorry," Scheff demonstrated that he has increasingly made the Cetera-era songs his own, as challenging a task as that may be. Along those same lines, guitarist and 20-year Chicago veteran Keith Howland captured the spirit of Terry Kath's aggressive and fleet-fingered six-string work when called for, helping to quell any longtime fans' doubts about the virility and authenticity of this reconstituted, latter-day edition of Chicago, still co-fronted by primary songwriter, keyboardist and singer Robert Lamm.
The concert's opening and closing segments, featuring both groups onstage—21 musicians and vocalists in all—proved to be far more than a mere showbiz formality. If the collectively performed three-song kick-off was mostly a polite party-starter, the all-skate finale was a triumphant, crowd-thrilling six-song set crammed with the crème de la crème of their hits, culminating with an exuberant "Shining Star" and a hard-driving "25 or 6 to 4." The most creatively surprising portion of the collaboration came with the yin-and-yang combo of Chicago's fiery 1971 hit "Free," an impassioned cry for liberation from pain and alienation, sandwiched between EW&F's joyous "September" and "Sing a Song." The insistent quarter-note rhythm of "Free" unexpectedly lent itself to a dark, funk-styled groove that was explored at more length in an extended jam spotlighting both bands' saxophonists in a trade-off of gritty, inspired soloing, leading to an emotional release with the lighter-hued "Sing a Song" and Chicago's swaggering "Does Anybody Really Know What Time It Is?"
Wristwatches (and, more prevalently, smartphones) told the audience it was around 10:40, but frankly, it could have been 1970, when stylistic boundary-crossing was reaching a peak in contemporary American music, fueled by the biracial rock-and-soul fusion of such groundbreakers as The Jimi Hendrix Experience and Sly & the Family Stone. Throughout the segment, vocalists from Chicago and EW&F alternated lines and verses from each others' songs while the mass of musicians on the multi-level stage set reveled in the energetic interplay and onstage camaraderie in a scene symbolic of the peaceful integration and brotherhood for which their earliest musical efforts earnestly expressed hope.
What with the many mainstream hits they racked up over the years and the now-multigenerational drawing power of the two legendary acts in the 21st century, it would be easy to overlook the fact that Chicago and Earth, Wind & Fire were bands well before they became brands. At the core of their massive commercial success still lies a desire to deliver inspirational and unifying messages, even in the face of an industry that increasingly demanded they deliver easily digestible entertainment. By pooling their efforts on the aptly named Heart and Soul Tour, combining complementary though largely divergent musical styles, their mutual commitment to create unity through the power of music was made palpable.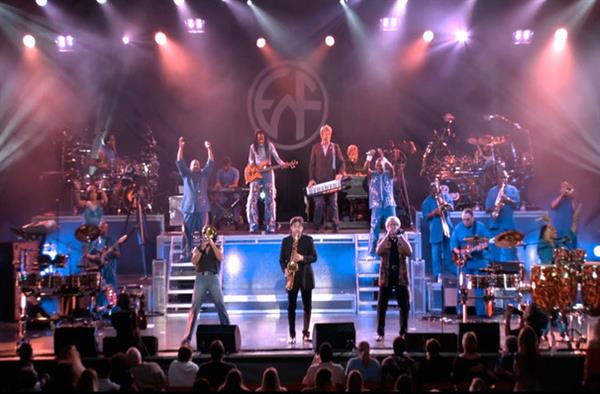 Performances on the Heart and Soul Tour end with a triumphant "all-skate" finale featuring the entirety of both Chicago and Earth, Wind & Fire