05/15/2015
REMEMBERING STARWOOD, WELCOMING ASCEND
Remembering Starwood, Welcoming Ascend: Reminiscing about the area's Amphitheatre, as new venue in Nashville announces 2015 schedule
by Bracken Mayo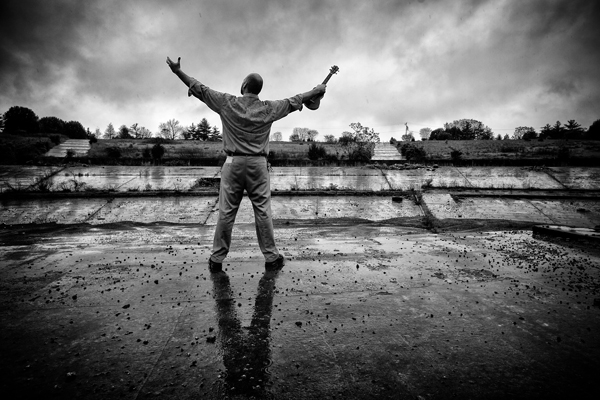 Pulse Publisher Bracken Mayo plays his ukulele for an imaginary audience at the dilapidated property that was once Starwood Amphitheatre. Starwood photos by Scott Walker
Many Tennesseeans have memories of taking a summertime drive out to Antioch with their friends or their date, and filtering into the venue known as Starwood Amphitheatre to hear one of the most popular bands of the day.
A couple of longtime live music fans recently made the familiar drive up to Starwood (the name it retained for locals despite its latter-day changes of ownership and identity), but all of the other area concert fans must have not gotten the memo, nor any bands or employees, because there wasn't a soul on the land that had formerly hosted many a party. In fact, there wasn't much of anything there at all other than the remains of the massive stage, a concrete pad that formerly contained the now-absent rows of seats and pavilion roof, and, for whatever reason, three abandoned boats, all plopped down at different places on the property.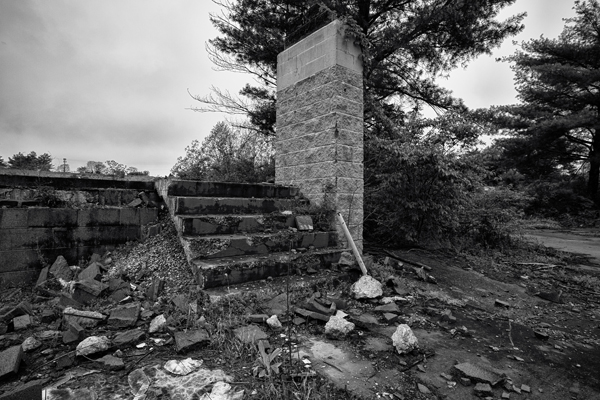 Back stage
I could say something poetic about how the echoes of rock legends still filled the air, and the sounds of happy Tennessee music fans socializing and dancing still remained in spirit, but in reality, the place was just a quiet, still, empty, wasted piece of land.
Starwood Amphitheatre opened with a bang in the summer of 1986. That year the venue hosted concerts by Jimmy Buffett, Bon Jovi, Allman Brothers Band, Blue Öyster Cult, Dokken, Amy Grant and Elton John.
Bon Jovi and Buffett must have enjoyed the experience; they came back the next summer, as did the Beach Boys, Beastie Boys, Duran Duran and Boston.
Dylan came in '88, and soon such bands as Aerosmith, Lynyrd Skynyrd, Guns N' Roses, Metallica and Van Halen would visit Middle Tennessee's anchoring amphitheatre. In the years to come Alice in Chains performed, as did Ray Charles, Iron Maiden, Phish and Widespread Panic.
The record for the most appearances at Starwood is shared by Dave Matthews Band and Aerosmith, both headlining concerts at the Murfreesboro Road venue 11 times. Tom Petty, Skynyrd and Buffett were also regulars at Starwood.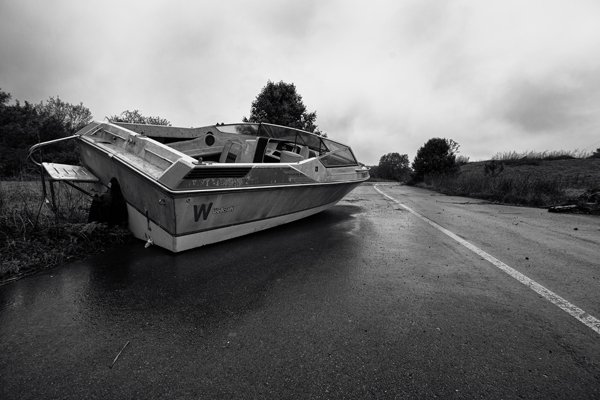 Back drive
Many say they miss the Starwood atmosphere, but evidently, the good times and rock 'n' roll were not generating enough profit to justify its continued operation, and progress had to be made. In 2007, after a company called Vastland purchased the property from Live Nation, demolition began at the Starwood site. The structures that held bathrooms and sold concessions and tickets were torn down, the seating was removed and, finally, the gates were locked.
However, plans to construct townhouses and retail shops on the former Starwood grounds never materialized. Today, the property remains dormant.
According to its Wikipedia page, "Starwood was criticized for the lack of sufficient road infrastructure in the area . . . larger crowds would result in major traffic problems both before and after events." For many, though, sitting in the traffic with thousands of other people stoked about seeing a concert was part of the experience.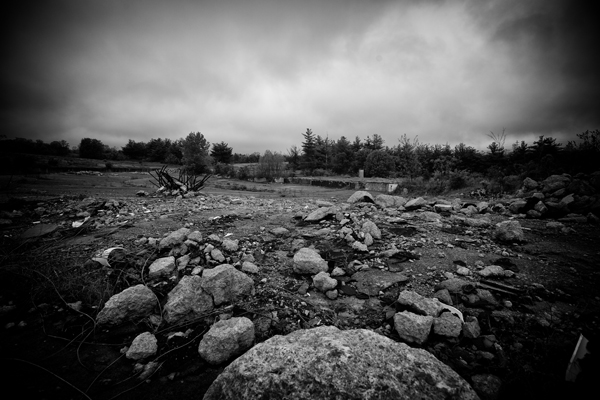 Where concession stands once lived
When asked on Facebook about some of their favorite concerts at the venue, the people of Murfreesboro gave Starwood an outpouring of fond memories and support:
Roland Justice – I've seen a lot of great shows there, but nothing as memorable as Roger Waters in 2000. Or Boston with Brad Delp shortly before his death in 2004.
Kelly Parkinson – Tom Petty like five times, Dave Matthews a few too many times, Willie second row, best ever! REM, Jimmy Buffett, Widespread Panic, Ted Nugent—he wore a ridiculous Native American headdress, I was offered to come backstage after, but passed. And Yanni with my Dad—lol . . . those were some highlights.
Jonathan Patrick Mohan – Rage Against the Machine and Wu-Tang Clan in '97
Kimberly Lynette Allison – I Saw Jimmy Buffett and the Coral Reefers there several times, I saw Hank Williams Jr., The Charlie Daniels Band, New Kids on the Block and Alan Jackson. I have very wonderful memories there. It still saddens me to know it is no longer open.
Jeff Holloway – That was such a great music venue. I saw Red Hot Chili Peppers, Foo Fighters, Weezer, Tool, White Zombie, Pantera, Snoop Dogg, Tool, Everclear and more there.
LeeAnne Allen Carmack – Annie Lennox, Sting, Beastie Boys, Tom Petty, John Mayer, Bonnie Raitt, and others
Derek K. Burks – Clint Black, B-52's
Penny Bolton – No Doubt, Jimmy Buffet, Shania Twain are the first 3 that come to mind, but saw several concerts .there. It was such a cool place for a concert!
Georgia Hemrick – Run–D.M.C./Beastie Boys. I was so cool then.
Angie Heydel Walker – Barenaked Ladies, Lynyrd Skynyrd with Ted Nugent, Dwight Yoakam, Color Me Bad, NKOTB with Tiffany
Carol Cooper Schroer – Steve Miller, KISS, Whitney Houston, Clint Black, Alabama, the Eagles . . .
Sherri Bozarth Ferguson – The Judds, Reba, Hank, Allman Brothers, Charlie Daniels, what year? I don't know, a long, long time ago! Oh yeah, Dan Fogelberg!
David Speight The Rush 30th anniversary tour in 2004 kicked off at Starwood . . . last concert I saw there.
Beth Blasingame Vires – Jimmy Buffett was my favorite. Watching the Parrotheads wander around outside was as much fun as the music itself.
Mary Wright West – Hmmm . . . Let me think. Boston '87, B52's '89, Bonnie Raitt '91, Reba '92.
Rhonda Nash Stansberry – Bob Dylan, Heart, Pearl Jam, John Mayer, Sheryl Crow, Alice in Chains, Van Halen, Lilith Fair, and, before it closed, Duran Duran.
Katrina Reed – New Kids on the Block and Kris Kross of course!
Shelly Gray – Peter Frampton, Journey and Phil Collins . . . those summer series concerts were the best!!!
Jamie Clarke Chavez – Oh yeah! The Eagles! And I was in the fifth row for REM. (And didn't Radiohead open for that show?) There was a period in the '90s during which I saw a lot of live music, and not just at Starwood.
Carrie Ragland – Saw the Eagles, simply amazing. Also saw Lynyrd Skynyrd when the power went out and everybody set fire to the grass. Saw Hank Jr. there and several greats at the Charlie Daniels Volunteer Jam. Others, too. It was a great venue. I miss it.
Ceysha Lane Berger – My high school years were a blast 'cause of Starwood, please bring it back so the younger generations can have as much fun and memories as us old people!
Misty Forkum – I graduated on that stage, as well as saw concerts like Bon Jovi, Eddie Money, Cinderella. I remember the One for the Sun concert series they had every year. It was fun to sit in the grass under the stars and enjoy good music.
Ryan Frizzell – I worked there. Some the hardest work I've ever done. I watched Lynyrd Skynyrd practice for eight hours the last time I was there.
Alta Hartman Creasy – My children and I worked there almost from the beginning to the end. It breaks my heart to pass there and see that empty lot. A lot of good memories and a great place to work part-time.
Shelley R. Grissom – Reba McEntire on my 16th birthday. 95.5 was giving away tickets at Papa John's. My mom won the second set, and I won the second-to-last set that was given away. Reba was my favorite country singer at the time so it was an awesome 16th birthday.
Bracken Mayo – So many incredible shows: Metallica, Red Hot Chili Peppers & Foo Fighters, B.B. King, Blues Traveler, The Offspring & Mighty Mighty Bosstones, Aerosmith, Widespread Panic, Tom Petty (multiple times), Dave Matthews Band (multiple times), Counting Crows & Live, The Black Crowes & Lenny Kravitz, and, get this, metal fans—two Ozzfests that kind of blur together, '04 and '05 with memories of bands including Slayer, Black Sabbath, Slipknot, Superjoint Ritual, Killswitch Engage, Hatebreed, Lamb of God, Mastodon, Atreyu, Unearth, Devil Driver, Judas Priest, Rob Zombie and Velvet Revolver (sorry if I left anyone out).
Steve Morley – Among my best Starwood memories are the Yes/Kansas double bill in 2000, Steely Dan, Ray Charles (with 17-piece band), Allman Brothers/Little Feat double bill up on the hill with great friends alongside (I recall Gregg Allman made a surprise cameo during Feat's set, singing a verse of "Dixie Chicken" much to the delight of all) and winning tickets to see Santana there in 1990.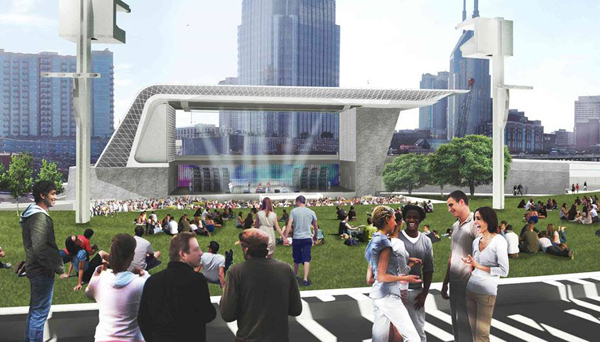 Ascend artists rendering
Meanwhile, Downtown
As the people of Middle Tennessee were reminiscing about the days of Starwood, the area's newest outdoor venue announced its inaugural concert lineup.
Ascend Amphitheater, a new outdoor venue located in downtown Nashville on the banks of the Cumberland River, will host a varied lineup of popular touring artists this summer, including Phish, Widespread Panic, Old Crow Medicine Show, Smashing Pumpkins with Marilyn Manson, Chicago with Earth, Wind & Fire, Counting Crows and many others in its first year of operation.
Live Nation, the world's largest concert promoter and the owner/operator of Starwood during its final years, will operate the new amphitheater. Live Nation, which now owns Ticketmaster as well, recently announced its acquisition of a portion of the Bonnaroo festival and a share in the Coffee County property that hosts it each year.
For the full summer schedule of shows at Ascend Amphitheater and more on the new venue, visit ascendamphitheater.com.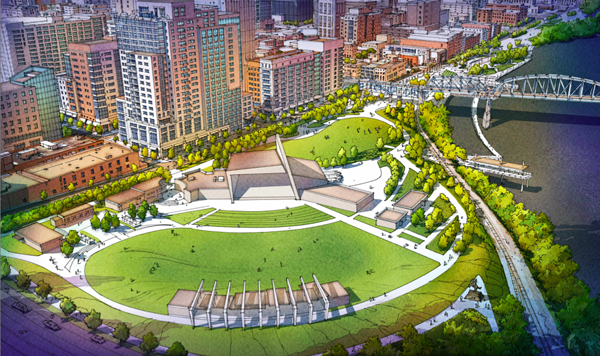 Ascend